Eldfast ceramic chimney lining
The Vulcan team are approved installers of the Eldfast chimney lining system. Eldfast is suitable for all fuels, easy to install, and resistant to high temperatures.
About Eldfast flue liners
Eldfast chimney lining is a ceramic chimney lining system made up of two elements: a refractory ceramic aggregate powder and a powder bonding agent. Together, they create a thick slurry which forms an adhesive when applied under pressure. Previously, it was thought that materials containing water, cement or lime/clay mortar were suitable for flue linings. In recent years, however, it has been discovered that these materials are vulnerable to acid attack and deterioration. That's why we only use our specialist mixture for our ceramic linings.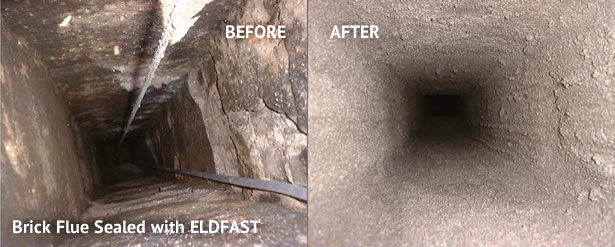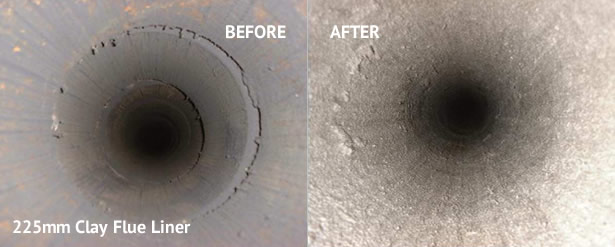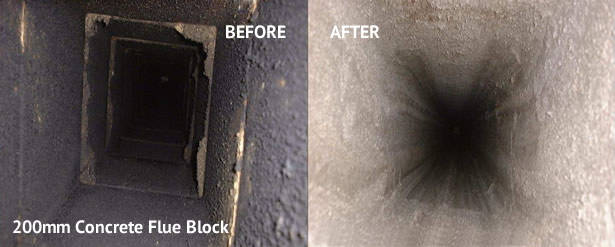 Why Eldfast chimney linings are different
Maintains the internal space of your chimney flue
Traditionally, flue lining involved inserting an inflatable sausage into the flue and filling it with concrete, leaving a small, round hole in the middle of the flue. If the fireplace is still in use, the lack of space within the flue can cause smoke to come back down the chimney, creating an unpleasant atmosphere and covering your furniture in a layer of soot.Eldfast flexible flue liners are drawn through the chimney to leave a 4mm thick layer on the face of your flue. Because we use a ceramic chimney lining system that follows the contours of your flue, the space inside your chimney is hardly reduced at all.
No disturbance or damage to your brickwork
Many other in-situ flue liners require bricks to be moved, lengthening the installation process. However, because Eldfast flue lining is drawn through your flue using a plug, there is no need to break into the flue or remove any brickwork.
Heat resistant – acts as an insulator
Eldfast ceramic lining is more resistant to heat than other chimney lining materials. It therefore acts as an insulator, maintaining the heat of the gases passing through it and reducing the risk of condensates. This is particularly handy for homes with thatched roofs, which can lower the temperature of the gases still further.
Not damaged by high temperatures
A chimney fire can reach temperatures of over 1000 degrees Celsius. While other flue linings can be damaged by extreme temperatures, our ceramic lining shows no deterioration at temperatures of almost 2000 degrees Celsius. In fact, high temperatures only serve to vitrify this ceramic chimney lining and make it even stronger. Eldfast flue liners are guaranteed to withstand your chimney fire, saving you money on replacement chimney linings and giving you extra peace of mind.
Eldfast Chimney Lining Case Studies