London, Kent Surrey and Sussex twin wall flue system solutions
Wishing you had a fire but have no chimney or have a fireplace but not where you want it? Well, there's good news in the form of twin wall flue systems. These are specifically designed to exhaust combustion gases from any type of appliance where there are no existing flue ways. In other words, no chimney no problem!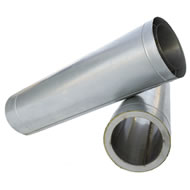 Twin wall rigid sectional pipe is constructed of two layers of 316 grade stainless steel which are separated by 25mm of insulation, keeping the majority of the heat inside the flue and the outside layer at a reasonable temperature. This also has its benefits when efficiency is taken into consideration.
The greatest benefit of a twin wall flue system is that it gives you options you probably didn't think you had.
If you are worried about seeing a stainless steel tube running through your house, don't… our team of twin wall flue system experts can construct an artificial chimney breast to encase the flue way so no one ever need know your chimney isn't real!
For any questions about the twin wall flue system please do not hesitate to contact us.
Twin Wall Flue Systems Case Studies